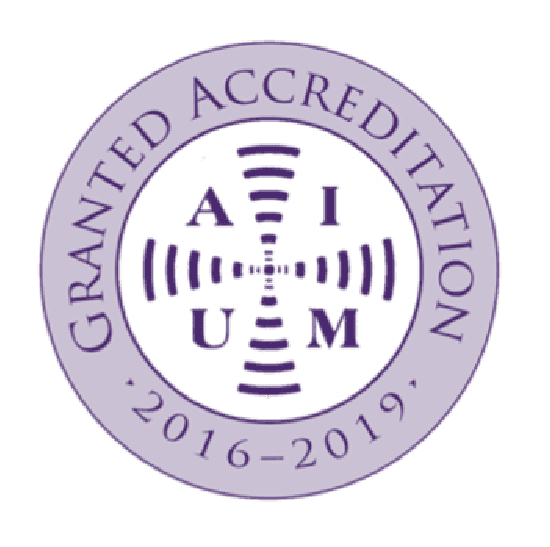 Harbour Women's Health offers ultrasound service that is accredited by the American Institute of Ultrasound in Medicine (AIUM) onsite for our pregnant and gynecology patients. When a routine screening ultrasound is indicated, we try to be as flexible as possible to accommodate timely and appropriate scheduling of the exam with your schedule. If an emergent or urgent ultrasound is required, we aim for same-day or next day appointments with immediate follow-up with one of our providers. Performed by our trained technicians, these ultrasounds are done both abdominally and vaginally and are later read by Dr. Emily Amarosa and Dr. Caroline Scoones.
Ultrasound Accreditation
We work to provide only the best for our patients and that's why we have completed a voluntary accreditation process for our ultrasound services through the American Institute of Ultrasound in Medicine (AIUM). AIUM sets the standards and guidelines for OB/GYN ultrasound practice accreditation. This is an elective but rigorous certification process that aims to elevate the quality of ultrasound practice.
In 2004, Harbour Women's Health became one of only a few locations in New Hampshire to obtain a certificate of accreditation under these guidelines. To maintain our accreditation status, we must undergo recertification every three years. We also successfully completed several recertification processes since 2004, with our most recent achievement in 2016. We are proud of our commitment to excellence in this area, and remain the only practice in Portsmouth that can offer this accredited service.
To earn accreditation, we had to demonstrate, meet or exceed national standards in several categories. The AIUM has officially determined that:
The doctors who interpret your ultrasound examinations here at Harbour Women's Health are properly trained in ultrasound technology and regularly meet continuing education requirements.
The ultrasound equipment is properly maintained and calibrated.
Each ultrasound procedure meets strict criteria for both quality and accuracy and
Case studies from this practice have been reviewed by the AIUM to ensure that the images and the interpretation of the images meet or exceed nationally-accepted standards.
Harbour Women's Health is proud to have earned this accreditation as it demonstrates that our patients receive the best quality of care possible through our ultrasound services.